 O.C.T. Process
Team coaching
The aim of team coaching is to support a team in the face of two types of challenges: on the one hand, improve its ability to function collectively around a common objective, and on the other hand, modify its daily practices in order to improve its operational results. Team-building is one of the aspects of team coaching.
Role of the coach
The coach observes the usual method of functioning and supports change through specific interventions. He/she manages both the evolution process and ensures control in the life of the group by encouraging open exchanges between team members. He/she supports the team's operational life and make the necessary contributions to the group's growth. The coach is there to facilitate co-operation and achieve a common objective, to support the construction of a shared vision. He/she helps to position or reinforce the manager in his leadership.
O.C.T. Process
Team support is based on three concrete phases: O.C.T. The coach must continually integrate and adapt these three phases into "situation intelligence".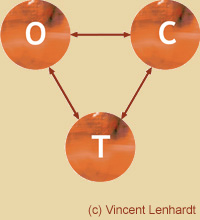 Operational: means an activity with the team allowing them to reach the established objective. We work on very precise themes.
Control: means a pause in the operations' phase. This allows conflicts to be anticipated or diffused, and to allow emotions to be aired and reflection.
Training: means theoretical contributions, the transfer of tools, specific training. This stage is necessary to improve the team's skills and culture.